Industry/Discipline Mixture (IDM)
Megacom has the expertise of highly qualified experts in different industries, i.e
. Textile, Engineering, Electronics, IT, Furniture, Pharmaceutical, Construction,
The pool of expert associates of Megacom makes it possible to create the Perfect Mix between Industry experts and Discipline experts. Thus when we target a certain area (e.g. HR, MIS, Marketing, etc.) for a com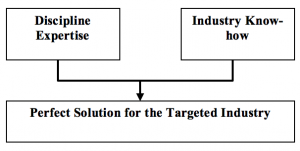 pany that works in a specific industry (e.g. Textile, Furniture, etc.), we utiliz
e the expertise of the targeted discipline expert with the profound know-how of the industry expert. This way we ensure that we deliver the perfect solution that specifically answers all the client's needs.